The world's greatest golf courses in the most sensational settings
Read time: 18 mins
Golf may have been born in Scotland, but the rest of the world just can't get enough of the game. So if you're looking for a reason to get away to the greens, here's our pick of the most iconic courses based on design, location, history, and game-raising challenges alongside some super hotel stays. Best of all, backdrops of dazzling coastline, emerald-swathed forests, dramatic mountain peaks come as standard - perfect for gazing at while you work on lowering your handicap.
Destination index
• Dominican Republic
• Barbados
• Bermuda
• St Kitts
• Jamaica
• California, USA
• Hawaii, USA
• Florida, USA
• British Columbia, Canada
• Alberta, Canada
• South Africa
• Dubai
• Abu Dhabi
• Mauritius
• Thailand
• Malaysia
• Bali
• Tahiti
• Fiji
• Australia
• New Zealand
Dominican Republic
Teeth of the Dog Course, Casa de Campo
Not only is Pete Dye's first creation at Casa de Campo the most highly-ranked in the Caribbean, but this scenic masterpiece single-handedly put the Dominican Republic on the global golf stage when it opened for play in 1971. Nearly 50 years later, Teeth of the Dog continues to wow golfers with a magnificent 18-hole championship course (par 72, 7,471-yards) meticulously hand-carved from the rugged rock and coral of the coastline. Not only do seven of the 18 holes directly face the Caribbean Sea (tricky when the trade winds kick in), but they also serve up devilish doglegs, trademark Dye obstacles, enormous hazards, long fairways, sublime island views, and plenty of dramatic pacing (especially on the par 3's where the greens are set out on promontories).
Play: Teeth of the Dog
Stay: Casa de Campo
Punta Espada Golf Club, Cap Cana
The first of three Jack Nicklaus signature golf courses developed at the exclusive 46-square-mile Cap Cana, the 18-hole Punta Espada (par 72, 7,396-yards) made its debut in 2006. Ranking amongst the world's finest (it hosted the PGA Tour's Champions Tour from 2008 to 2010), it offers all the essentials: challenging links, perfect greens, emerald fairways, and ravishing views from every single hole (there's eight either alongside or over the Caribbean Sea, including the spectacular par 4 17th that requires a tee shot carry over a bay). The other signature hole is the acclaimed 13th - a 250-yard par 3 played over turquoise-tinted waters (watch out for spray from the rising waves). Caddies are mandatory and included in the rather hefty price tag.
Play: Punta Espada Golf Club
Stay: Eden Roc at Cap Cana(5 mins transfer)
Barbados
The Green Monkey, St James
Located at the glamorous Sandy Lane Hotel on Barbados' glittering west coast, Tom Fazio's visually overwhelming The Green Monkey is an exclusive 18-hole course (par 72, 7,343-yards) carved from an old limestone quarry. Opened in 2004 and named after the Bajan green primates that call this island home, it challenges beginners and pros with exposed rock faces, lush fairways, tremendous elevation changes, and striking sea views. There's also some sensational holes - the most significant of which is the par 3 16th located on the centre of the valley floor and protected by a giant bunker with a grass island in the middle carved in the shape of a monkey. The only downside is that you can't just show up and play unless you're staying at the resort.
Play: The Green Monkey
Stay: Sandy Lane
The Country Club, St James
It may be less star-studded than its older brother, but The Country Club at Sandy Lane welcomes non-residents. Opened in 2001 and designed by Tom Fazio, this challenging 18-hole course (par 72, 7,060-yards) seduces players with lush greens, immaculately groomed and gently sloping fairways, open parkland, undulating terrain, and five lakes. Given its calibre (it was the setting for the 2006 World Golf Championships Barbados World Cup), you can expect solid golf throughout - especially exciting on holes such as the 195-yard par 3 9th where tee shots are played from an elevated position across a pond. Most holes offer views of the Caribbean Sea - and there's every chance you'll see one of the Bajan green monkeys who live in the gullies around the course.
Play: The Country Club
Stay: Sandy Lane
Royal Westmoreland, St James
The island's only gated golf community with full amenities, the Royal Westmoreland is an 18-hole championship course (par 72, 7,045-yards) built on the former site of a sugarcane plantation. Opened in 1994 and designed by Robert Trent Jones Junior, it promises some of the world's most luxurious leisure facilities in addition to shimmering Caribbean Sea views from every green, an audience of cute monkeys, and a layout that includes perfectly presented fairways and greens that wind gently around the colonial-style clubhouse. Much of the course will require every club in your bag, especially at the number of par 3's. The most fascinating holes include the dramatic signature 12th and the 5th, 6th, and 7th that make excellent use of an old quarry.
Play: Royal Westmoreland
Stay: The Fairmont Royal Pavilion (5 mins transfer)
Bermuda
Mid Ocean Club, Tucker's Town
Designed by Charles Blair Macdonald in 1921 and modified to its current layout by Robert Trent Jones Senior in 1953, Mid Ocean Club is one of the world's most prestigious courses (Ian Fleming described it as a "fine links where all the quality play and get together at the club afterwards for gossip and drinks" in Quantum of Solace). Not only does this 18-hole course (par 72, 6,520-yards) have the Atlantic Ocean as an impressive backdrop, but there's also a combo of deep valleys and challenging bunker placements to savour. Equally impressive is the 5th hole known as the Cape - a 433-yard par 4 where the elevated tee overlooks Mangrove Lake (this architectural masterpiece has been copied on thousands of courses across the globe).
Play: Mid Ocean Club
Stay: Grotto Bay (10 mins transfer)
St Kitts
Royal St Kitts, Basseterre
Opened in 1976 and radically renovated in 2004 by prolific Canadian designer Tom McBroom, Royal St. Kitts is an 18-hole championship course (par 71, 6,900-yards) with 125 acres of lush grassland, abundant water and sand hazards, two full holes on the Caribbean Sea, and three full holes on the Atlantic Ocean at the dramatic finish. In addition to the double whammy of coastal views (and probable whipping winds), you'll also encounter smooth greens with interesting contours, fairways fringed with multitudes of coconut palms, and wide landing areas. There's also a splendid signature hole (par 3 15th) that sits atop the highest point on the entire course and affords glorious vistas of neighbouring islands St. Maarten, Saba, and Nevis.
Play: Royal St Kitts
Stay: Park Hyatt St Kitts (13 mins transfer)
Jamaica
Half Moon, Montego Bay
Sculpted out of the foothills flanking the western Jamaican coastline and routed through a former sugarcane estate, this 18-hole championship course (par 72, 7,120-yards) opened in 1962. Designed by Robert Trent Jones Senior and modernised by Roger Rulewich in 2005, it's consistently ranked as one of the best walking courses in the world; not least for its multiple tee complexes, groomed fairways, well-bunkered greens, wonderful coastal vistas, and repositioned bunkers (26 of which are shallow-faced, requiring solidly-struck tee balls to find the short grass). The course has hosted several prestigious tournaments such as the Jamaica Open, the Dunhill Cup Final of the Americas, the Red Stripe Pro-Am, and the European PGA Senior Tour.
Play: Half Moon Golf Course
Stay: Half Moon
California, USA
Pebble Beach Golf Links & Spyglass, Carmel
America's most famous resort and definitely its priciest, Pebble Beach's three Top 50 public courses make the most of the Pacific coastline that wraps around California's Monterey Peninsula. Complete with an attractive Jack Nicklaus-designed 5th hole that sits on the bluffs overlooking Stillwater Cove, the 18-hole Pebble Beach Golf Links course (par 72, 6,828-yards) has hosted the AT&T Pebble Beach National Pro-Am for 76 years and the US Open no less than five times. Equally standout is Robert Trent Jones Senior's 18-hole course (par 72, 6,960-yards) Spyglass Hill where all the holes are named after characters and places from Treasure Island (the most famous is the 4th, a 370 yard par-4 named Blind Pew - reportedly Jones' favourite).
Play: Pebble Beach Golf Links & Spyglass
Stay: Carmel Valley Ranch (23 mins transfer)
Carmel Valley Ranch, Carmel
The only Pete Dye-designed, bent grass course in Northern California, the 18-hole Carmel Valley Ranch (par 70, 6234-yards) rewards with dramatic elevation changes, verdant fairways, stylish bunkering, occasional ponds, multi-tiered greens, and brilliant blooms - all set against the rugged Santa Lucia Mountains of the Monterey Peninsula, just a few minutes east of Carmel-by-the-Sea. Opened in 1981, it also rewards with exquisite forest panoramas, wildlife sightings (deer, quail, turkeys, rabbits, foxes), tactical challenges galore, and comfortable year-round temperatures. Most joyous is the front nine positioned along the Carmel River featuring very tight fairways and tricky greens and the back nine located some 350-feet above the valley floor.
Play: Carmel Valley Ranch Golf
Stay: Carmel Valley Ranch
Indian Wells, Palm Springs
One of the most historic clubs in the Coachella Valley and the only 36-hole facility in California, Indian Wells is masterfully designed to take full advantage of the jaw-dropping views across the San Jacinto, Santa Rosa, and San Bernadino mountain ranges. Golfers can play two courses, the most famous of which is the Clive Clark-designed 18-hole Celebrity Course (par 72, 7,050-yards) that opened in 2006 and features striking waterfalls, flora and fauna detailing, undulating fairways, and several streams, brooks and split-level lakes. Also unforgettable is the longer (and much tougher) 18-hole Players Course (par 72, 7,373 yards) that opened a year later and was designed by John Fought to include sculptured bunkers and generous fairway corridors.
Play: Indian Wells Golf
Stay: Renaissance Indian Wells Resort & Spa (3 mins transfer)
Escena Golf Club, Palm Springs
With the towering San Jacinto and Santa Rosa mountain ranges as a backdrop, this Jack Nicklaus-designed, 18-hole championship course (par 72, 7,233-yards) if golfing perfection for its desert landscaping, defining architecture, and prime Palm Springs location. Opened for play in 2005, it provide a challenge for golfers at all levels of the game - but is most memorable for its striking mountains and bright blue skies that frame the flight of every tee shot. Undulating greens, strategically placed bunkers, dramatic water hazards, wide driving corridors, abundant flowers, and clusters of towering Mexican fan palms and pepper trees add to the appeal of a course that is as much about providing risk and reward options as showing off the rolling topography.
Play: Escena Golf Club
Stay: Riviera Palm Springs (7 mins tranfer)
Hawaii, USA
Mauna Kea, Hawaii Island
Setting the standard for Hawaiian golf, the 18-hole championship Mauna Kea course (par 72, 7,370-yards) was created by Robert Trent Jones Senior in 1964 on what was once a barren black lava field. Following a wealth of remodelling in 2008 by the architect's son, Reese Jones, this visually stunning course thrills with ultra-dwarf Tifeagle Bermudagrass on the greens, Tifway 419 hybrid Bermudagrass on the tees, fairways and roughs, more than 100 strategically placed bunkers, and an epic over-the-ocean par 3 3rd - a daunting tee shot with the green set above volcanic rock. The course itself tumbles along seaside cliffs and offers remarkable views of the Kohala Coast's rolling Pacific Ocean waves and the 4,207-metre-high Mauna Kea Volcano.
Play: Mauna Kea Golf Course
Stay: Mauna Kea Beach Hotel
Wailea Golf Club, Maui
Created in 1994 by Robert Trent Jones Junior, Wailea Golf Club presents three meticulously designed courses - all with mind-blowing views of Mount Haleakala and the Pacific Ocean. The award-winning Wailea Emerald Course hits the mark for golfers of all levels with delicate carpet-like fairways, fragrant tropical foliage, and the challenging water positioning of the 10th and 17th, while the Arthur Jack Snyder-designed Wailea Blue Course offers lovely lakes, coral sand bunkers, and rather distracting vistas of Maui's neighbouring islands. The jewel in the crown, though, is Robert Trent Jones Junior's Wailea Gold Course - the former host site of the Champions Skins Game that gets much love from the golfing greats for its strategic design.
Play: Wailea Golf Club
Stay: Fairmont Kea Lani Maui (2 mins transfer)
Florida, USA
LaPlaya Beach & Golf Resort, Naples
Originally opened in 1959 yet totally revamped by Bob Cupp in 2002, the 18-hole championship links course at LaPlaya Beach & Golf Resort (par 72, 6,902-yards) has five sets of tees to meet every golfer's ability. Described by Cupp as "not only fun and challenging to play, but also pleasing to the eye", it offers lush fairways, rolling hills, colourful landscaping, 17 acres of lakes, phenomenal views, and particularly memorable yet daunting par 3s. Recent renovations have included rebuilding all 18 greens, re-grassing the tee boxes, adding more tropical plants and trees, and ensuring there's well-placed bunkers on just about every hole. It has also improved facilities for members and guests (the former can choose from 10-minute tee-off times).
Play: LaPlaya Beach Golf Course
Stay: LaPlaya Beach & Golf Resort
Naples Beach Hotel & Golf Club, Naples
Owned and operated by the Watkins family for three generations, the course at this landmark Southwest Florida resort was built in the late 1920s, modified in 1948 by Mark Mahanna, and subsequently redesigned three times between 1980 and 1998 by Ron Garl. It's most recent claim to fame is yet another overhaul - this time by John Sanford and Jack Nicklaus (the latter first broke 40 for nine holes on this very course during a family holiday when he was just 11 years old). The result is a challenging course offering a par-71 routing plan with five tees ranging from 4,8000-yards to over 6,900-yards, undulating greens to keep the interest of every level of player, and outstanding views of the Gulf of Mexico's brilliant white sands and crystalline waters.
Play: Naples Beach Golf Club
Stay: Naples Beach Hotel & Golf Club
ChampionsGate, Orlando
Featuring two Greg Norman-designed 18-hole championship courses, ChampionsGate delights with classic and contemporary golf elements that make for exciting rounds. The traditional parkland-style National Course (par 72, 7,128-yards) weaves its way through the lush Florida plains and features sculpted bunkers, challenging water hazards, spring-fed lakes, and 18 contiguous holes that wind through 200 acres of woodlands, wetlands, and former orange groves. By contrast the heralded links-style International Course (par 72, 7,363-yards) is based around the region's natural wetlands and has over 160 bunkers, tall grass-topped dunes, large undulating greens, and hard and fast playing surfaces reminiscent of historic British courses.
Play: ChampionsGate Golf
Stay: Omni Orlando Resort at ChampionsGate (5 mins transfer) or ChampionsGate Resort Homes (all less than 10 mins transfer)
British Columbia, Canada
Capilano Golf and Country Club, West Vancouver
Originally built for Britain's wealthy Guinness family and opened for play in 1938, this 18-hole masterpiece designed by Stanley Thompson has an enviable location overlooking the Lions Gate Bridge, the Coast Range Mountains, and Burrard Inlet. Ranking as one of Canada's finest, the championship course (par 70, 6,644-yards) presents a challenging and excellently crafted layout that takes full advantage of its former mountainside setting. Known locally as the Cap, it features fairways flanked by towering Douglas firs, sloping putting surfaces, and outstanding views from the back nine. It has also has fascinating par 3's as well as tight and narrow holes that require a whole lot of accuracy, especially on the par 5 18th and the par 5 1st.
Play: Capilano Golf and Country Club
Stay: Rosewood Hotel Georgia (17 mins transfer)
Alberta, Canada
Fairmont Jasper Park Lodge Golf Club, Jasper
Deep in the heart of the Canadian Rockies, this award-winning mountain gem opened in 1925 - following a year of clearing the land of boulders and debris to prepare it for the magic that would follow. The result was a Stanley Thompson-designed course (par 71, 6,663-yards) with an 18-hole layout offering elevated tee boxes, dramatic bunkering, holes aligned with views of the snow-topped peaks and Lake Beauvert, and wide fairways that carve through thick forest. While not a championship course, few places in the world can match the rugged majesty of this national treasure that has remained relatively unchanged for nearly a century (restoration works in 1994 referred to Thompson's original blueprints from 1924 to keep it as authentic as possible).
Play: Fairmont Jasper Park Lodge Golf Club
Stay: Fairmont Jasper Park Lodge
Fairmont Banff Springs Golf Club, Banff
Overlooking the turreted Fairmont Banff Springs (known as Canada's Castle in the Rockies), meandering along the Bow River, and dwarfed by the towering peaks of Sulphur Mountain and Mount Rundle in the heart of Banff National Park, this Stanley Thompson-designed 18-hole course (par 71, 6,938-yards) was unveiled in 1928. The most expensive ever built thanks to heavy investment by the Canadian Pacific Railway, it has lost none of its charm almost a century later; think challenging layout, killer mountain views, and a rather famous hole known as Devil's Cauldron (a short par 3 4th over a turquoise lake at the bottom of Mount Rundle). Guests can even play the course the way Thompson designed it, using original equipment from the 1930s.
Play: Fairmont Banff Springs Golf Club
Stay: Fairmont Banff Springs
South Africa
The Links at Fancourt, Western Cape
A private club exclusively for members and accompanied guests, The Links at the lavish Fancourt estate is not what one would expect to find on South Africa's Garden Route. Sculpted into a disused airfield and overlooking the breathtaking Outeniqua Mountains, it has all the hallmarks of a championship course: 18-holes (par 73, 6,930-yards), undulating terrain, dune-style landscape, and distinctive design courtesy of Gary Player in collaboration with Phil Jacobs and Dr. Hasso Plattner. Unsurprisingly, this beacon of golfing excellence ranks as the best in the country for playability, environmental sustainability, and playing host to tournaments such as the Presidents Cup, the South African Open, and the Volvo Golf Champions European Tour.
Play: The Links at Fancourt
Stay: Hog Hollow Country Lodge (1 hr 45 mins drive)
Gary Player Country Club Golf Course, Sun City
Deservedly ranked one of the most famous in South Africa thanks to the Nedbank Golf Challenge that's been held at this glamorous resort annually since 1981, this 18-hole course (par 72, 7,981-yards) is also one of the longest in the world at almost 8,000-yards from the championship tees. Built in an extinct volcanic crater and designed by Gary Player, it offers all manner of thrills for the casual and professional golfer: imaginatively placed bunkers, multiple tees, wide kikuyu grass fairways, and bent-grass greens for a near-perfect playing surface. But what gets the most credit are the magnificent views of the resort's four hotels, the lake, and the surrounding mountains that form part of Pilanesberg National Park (home to the Big Five).
Play: Gary Player Country Club Golf Course
Stay: The Palace of the Lost City (6 mins transfer)
Royal Cape Golf Club, near Cape Town
Fewer courses in South Africa rival the historic 18-hole Royal Cape Golf Club course (par 72, 6,843-yards) set in the shadow of Table Mountain. Established in 1885 and moved to its current location in 1905, this mature parkland course is the current home of the Cape Town Open (it has also hosted the South African Open a whopping ten times). Having lost none of its charm in over 130 years, highlights include pristine tree-lined fairways, smooth greens, challenging bunkers, numerous water features such as ponds and lakes, and sweeping mountain views. It also offers some prominent holes, including the 14th (voted as the best 14th hole in the country) and the 15th that is a par 3 over a lake and requires precision based on the near-constant winds.
Play: Royal Cape Golf Club
Stay: The Steenberg Hotel (22 mins transfer)
Dubai
The Majlis Course, Emirate Golf Club
Playing the proud host to the city's oldest and most prestigious event, the European Tour's Omega Dubai Desert Classic, the Majlis is the flagship 18-hole championship course (par 72, 7,301-yards) at Emirates Golf Club. Designed by Karl Litten and opened in 1988, it was built in and around the dunes on a site donated by His Highness General Sheikh Mohammed bin Rashid Al Maktoum (the brief was to preserve as much of the land's desert character as possible). Over 30 years later, it continues to win praise for its meandering fairways, immaculate landscaping, jaw-dropping skyline views, and Bedouin tent-shaped clubhouse - a landmark in its own right. There's also seven fresh and saltwater lakes that come into play on 10 challenging holes.
Play: The Majlis Course
Stay: Jumeirah Al Naseem, Madinat Jumeirah (12 mins transfer)
The Earth Course, Jumeirah Golf Estates
One of Jumeirah Golf Estates two championship golf courses designed by Greg Norman, the 18-hole Earth Course (par 72, 7706-yards) has been hosting the DP World Tour Championship Dubai since opening ahead of the inaugural edition of the tournament in 2009. Inspired by sculptured European and North American parklands, the layout includes a combination of rolling terrain and rushing water, beautiful rolling fairways lined with over 3,500 trees, pristine white bunkering, and breathtaking views of greenery and nature at every turn. Every hole has been masterfully designed to blend into the landscape, with the final four holes played alongside or over water in the creek (described by Norman as ''the most challenging mile in golf'').
Play: The Earth Course
Stay: Jumeirah Al Qasr, Madinat Jumeirah (27 mins transfer)
Abu Dhabi
Yas Links, Yas Island
The only true links course in the Middle East, the Kyle Phillips-designed Yas Links on the western shores of Yas Island is a demanding 18-hole course (par 72, 7,450-yards) with clever sculpting, rolling hills, delicate mangrove plantations, windswept rolling fairways, and challenging deep-pot bunkers. A favourite with UAE-based players, it also ups the ante when it comes to views; every single daunting and dynamic hole overlooks the sparkling Arabian Gulf - with eight running right up along the coastline. There's also an excellent signature par 3 17th shaped around an inlet as well as an incredible finishing stretch with the Yas Marina Circuit Formula 1 and the iconic Ferrari World Abu Dhabi theme park racetrack in the background.
Play: Yas Links
Stay: Yas Hotel Abu Dhabi (7 mins transfer)
Mauritius
Heritage Golf Club, Bel Ombre
A former sugarcane plantation overlooking the volcanic mountains, the hills of the Black River Gorges Nature Reserve, and the turquoise Indian Ocean waters, the Peter Matkovich-designed Heritage Golf Club is home to an 18-hole championship course of two halves: the outward nine (3210-metres) and the inward nine (3297-metres). Opened in 2004, it's one of the most technically demanding courses on Mauritius; not least for its hilly landscape, strategically placed lakes, streams and rivers, and thick African elephant grass. The course grabbed international golfing attention in May 2015 by hosting the first ever tri-sanctioned golf tournament between the European, Sunshine, and Asian Tours, known as the AfrAsia Bank Mauritius Open.
Play: Heritage Golf Club
Stay: Heritage Awali Golf & Spa Resort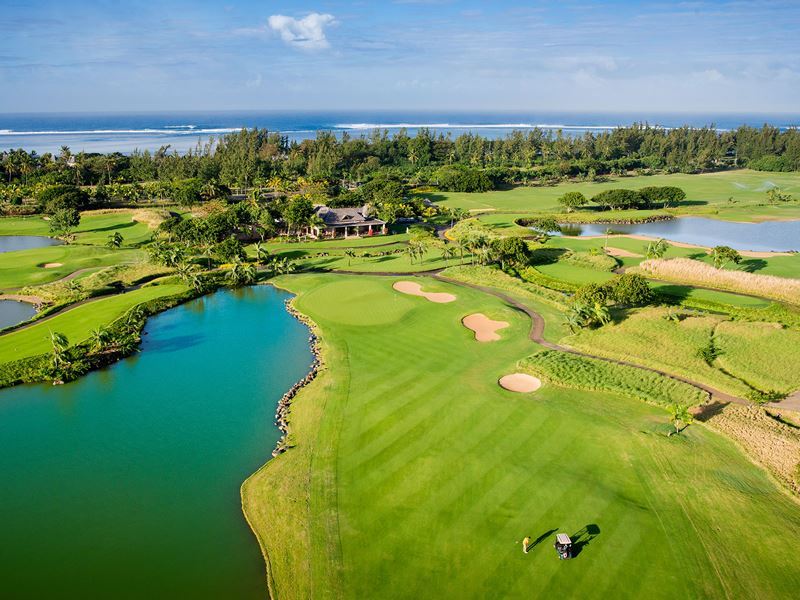 Ile aux Cerfs Golf Club, Trou d'Eau Douce
Formerly known as Le Touessrok, this Bernhard Langer-designed course winding its way around the southern half of Ile aux Cerfs made its debut in 2013 with the first nine holes and continued in 2014 with the back nine. Set on an old sugarcane plantation, it offers generous fairways, volcanic rock outcrops, a variety of tropical trees and plants, expansive white sand bunkers, and four sets of tee decks for each hole (all 18 holes overlook the ocean; either through the trees or face on by the shore). There's also nine lakes in total (with three holes requiring tee shots across sea inlets to the fairways) in addition to memorable views of mangrove forests, volcanic lava outcrops, tidal pools, and the powdery Indian Ocean beaches the island is so famous for.
Play: Ile aux Cerf Golf Club
Stay: Shangri-La's Le Touessrok Resort & Spa (17 mins transfer)
Thailand
Black Mountain Golf Club, Hua Hin
Transformed from lush jungle and pineapple plantations and set in a verdant valley surrounded by huge black granite rock covered mountains just west of Hua Hin, this 27-hole course (par 72, 7343-yards and par 36, 3621-yards) hosted the Asian PGA Tour in 2009 and 2010 and the Thailand Classic in 2014. Designed by Phil Ryan (the original 18-hole course opened in 2007, the nine holes were added in 2016), it pleases championship and casual golfers alike with large greens, numerous white sand sculptured bunkers, interconnected waterways, and generous fairways for shorter hitters (these narrow for longer tee shots). Some of the best holes include the par 5 6th and the signature 11th - a par 3 over water to an island green with no bail-out area.
Play: Black Mountain Golf Club
Stay: Cape Nidhra (25 mins transfer)
Santiburi Samui Country Club, Koh Samui
An essential stop on the PGA Asian Tour years, Pirapon Namatra's hillside creation at Santiburi Samui Country Club ranks as one of the best in Thailand. Sparking joy for golfers since opening in 2003, this unique 18-hole course (par 72, 6,930-yards) offers undulating fairways cleverly carved into slanted mountains, spectacular elevations changes (from 25 to 180 metres above sea level), hilly contours that provide some tricky obstacles, and to-die-for views stretching out across Koh Phangan Island. It also makes the most of its tropical surrounds with rock-filled valleys, streams, waterfalls, and greens flanked by characteristic coconut palms. Much of the course requires precision as you're forced to drive the ball uphill, so keep your driver in the bag.
Play: Santiburi Samui Country Club
Stay: Santiburi Koh Samui (9 mins transfer)
Malaysia
Rainforest Course at The Els Club Teluk Datai, Langkawi
The extravagant course that put Langkawi on the global golfing map, the 18-hole championship Rainforest (par 72, 6,734-yards) opened for play in 1992 as Dalit Bay Golf Club but was completely renovated, renamed, and reopened in 2014 by Ernie Els (it's now part of his Els Club Malaysia portfolio). Created from a million-year-old rainforest in the northern part of the island, it rewards with jungle thrills aplenty (tropical foliage, natural streams, ancient 100-foot-high trees, monkey sightings), undulating fairways and greens, a number of doglegs to keep you on your toes, and heavenly vistas of the turquoise Andaman Sea and the Mat Cincang mountain peaks. In fact, the only thing missing is bunkers (a deliberate design strategy rooted in practicality).
Play: Rainforest Course at The Els Club Teluk Datai
Stay: The Datai Langkawi (7 mins transfer)
Bali
Bali National Golf Club, Nusa Dua
Established in 1988 as the Bali Golf and Country Club but given an overhaul and new name by Robin Nelson and Rodney Wright in 2013, the 18-hole Bali National (par 72, 7166-yards) is arguably Bali's flagship golf facility. Located in the dry and rocky Balinese hills just moments from Nusa Dua's glistening white sand beach and Indian Ocean waters, the championship layout gives the impression of a rice terrace so typical of the Indonesian countryside. There's also three distinct playing environments: holes 1 to 9 have creeks, canyons and native vegetation while holes 10 to 16 offer sculptured fairways. There's also two superb finishing holes, including the signature 17th - a par 3 that is played out to an island green and requires a well-struck tee shot.
Play: Bali National Golf Club
Stay: Samabe Bali Suites & Villas (5 mins transfer)
Tahiti
Moorea Green Pearl, Moorea
Nicklaus Design's first venture in French Polynesia, Moorea Green Pearl's 18-hole course (par 70, 6,596-yards) has been masterfully crafted to preserve the natural splendour of one of the most beautiful islands in the world while also providing a variety of harmonious holes appealing to golfers of all level. Located in the village of Temae on the lush Moorea, it makes the most of the stupendous views: the front 9 faces the white sands and the translucent ocean waters while the back nine are in the middle of an extinct volcano and present more mountainous and rugged vistas from the narrow fairways. The highlight here is the signature hole on the back nine for its outlook over the course, the lagoon, and Moorea's sister island of Tahiti in the distance.
Play: Moorea Green Pearl
Stay: Sofitel Moorea La Oar Beach Resort (6 mins transfer)
Fiji
Natadola Bay, Viti Levu
The most expensive in Fiji, the links-style, 18-hole championship course (par 72, 6,566-metres) is the stylish result of world-class golf architecture, rolling pastures, glittering beachfront, the coral reefs and surf breaks of the Pacific Ocean, and a Natadola Bay setting on Fiji's main island of Viti Levu. Opened for play in June 2009 with the staging of the Fijian Open and renovated in 2016 under the watchful eye of Vijay Singh, it tempts with tough but playable opening holes, long and unforgiving fairways, manicured greens playing into challenging sand traps and bunkers, and a signature 4th where you play alongside the Pacific waters for the first time. Further changes include new tees on the 5th and 6th and a brand new green complex built on the 11th.
Play: Natadola Bay
Stay: InterContinental Fiji Golf Resort & Spa (4 mins transfer)
Australia
Royal Melbourne, Melbourne
Founded in 1891 and moved to its current Black Rock site in 1926, Royal Melbourne is the oldest private club in Australia with two superb 18-hole courses: East and West (tournaments and special members' events are often played on the Composite Course, made up of 12 holes from the West and six from the East). The West Course is considered the superior of the two and has been honoured as the first non-American course to host the PGA President's Cup in December 2019. It's also considered to be Dr. Alister Mackenzie's greatest designs for its dramatic undulation, fertile sandy soil, natural rugged appearance, bold bunkering, rough areas that mix native grasses, and routing that has been fashioned to flow with the sandbelt land.
Play: Royal Melbourne Golf Club
Stay: Crown Towers Melbourne (30 mins transfer)
Kingston Heath, Melbourne
It may rank second on Australia's best golf club lists, but Kingston Heath is definitely the country's sandiest. Designed in 1925 by Dan Soutar with additional guidance from Dr. Alister MacKenzie, this 18-hole open sandbelt course (par 70, 7,900-yards) grabs attention for its bunkers - a whopping 128 of them that surround almost every green. Further risk and reward highlights include the par 3 19th designed by consulting architect Michael Clayton, the long par 4 6th that runs parallel to the 1st and heads back towards the clubhouse, and the last five finishing holes (rated as the best in Australian championship golf). Little wonder that Kingston Heath has hosted the Australian Open seven times as well as several iterations of the Australian Masters.
Play: Kingston Heath Golf Club
Stay: The Langham Melbourne (28 mins transfer)
New South Wales Golf Club, La Perouse, near Sydney
Founded in 1928, this members-only club on the rugged cliffs at La Perouse is home to an 18-hole links-style championship course (par 72, 6,245-metres) that's hailed as a dazzling jewel among Australia's golfing gems. Brilliantly designed by Dr. Alister MacKenzie who wanted to make the most of the hills and valleys that lead to the rugged Pacific Ocean as well as maximising the views over the profoundly historic Botany Bay, it offers tight fairways, testing and well-paced greens, great routing, stunning water holes, and strategic bunkering that is well-suited to the landscape. For many, the most memorable hole is the par 3 6th accessed across a small bridge and overlooking the SS Minmi shipwreck and the entrance to Botany Bay.
Play: New South Wales Golf Club
Stay: The Langham Sydney (28 mins transfer)
New Zealand
Cape Kidnappers, Hawkes Bay
Built on a ridge-and-valley landscape high above Hawkes Bay on the east coast of New Zealand's North Island, this much-hyped modern marvel designed by Tom Doak opened in 2004. An 18-hole course (par 71, 7,119-yards) to test golfers of all skill levels, it offers compelling Pacific Ocean views, firm and fast playing surfaces, deep ravines, some truly perilous drops from cliff-edged fairways (some at 180 metres above sea level), and a combination of clever architecture that makes thoughtful use of the natural topography. The par 5 15th (known as the Pirates Plank) is a must-play - especially if you overshoot and wait 14 seconds for your ball to hit the crashing waters below (some golfers do this on purpose just to test the theory).
Play: Cape Kidnappers Golf Course
Stay: The Farm at Cape Kidnappers
Find your perfect holiday
Talk to our friendly team
01 6649999
Call us 9am-7pm Mon-Fri / 9am-5pm Sat-Sun