Celebrate your 60th birthday with these recommended holiday experiences
Your 60th birthday is a major milestone that should be celebrated in a big way, and what better option than to embark on an unforgettable holiday. Now is the time to start planning if you hope to experience an adventure of a lifetime in 2019 – with everything from the tropics of the Caribbean to the wilds of British Columbia, there's sure to be a getaway on this list that's calling your name.
Soak up the sun and the sand with a luxury tour in St. Kitts & Nevis
With its jaw-dropping tropical scenery, including postcard-perfect stretches of sand that frame turquoise waters, the two-island nation of St. Kitts & Nevis in the West Indies may be ideal. Set about midway between Barbados and Puerto Rico, the pair of isles offer the chance to experience a still unspoiled paradise, with far less commercialism than what you'll find in many other Caribbean destinations, yet it's also home to numerous historic and cultural attractions. Take it all in with a luxury tour that includes stays in high-end hotels, with time split on both islands. Your room may even come with an individual pool and private sundeck to soak up those incredible views of the glistening expanse of the sea.
Spend your time lounging or strolling beautiful beaches with strikingly white soft sands, and black volcanic stretches, as well as taking part in all sorts of activities. The crystal-clear, warm waters that surround the islands make this a paradise for water sports, particularly diving and snorkeling, with an abundance of colourfish, sea turtles and vibrant coral. Sunset sailing, surfing, and jet-skiing are on offer too. You can even hike the slopes of a volcano, watching for wildlife like monkeys along the way, with St. Kitt home to three volcanic peaks, including Mount Liamuiga, the most popular for a trek.
More information and to book: Luxury St Kitts & Nevis
Take a trip back in time through the music of the American South
Music can evoke some of the best times in life, and if taking a trip to immerse yourself in some of the best of the 1960s and '70s tunes, and all the experiences that go with it sound appealing, you may want to embark on the Tastes and Sounds of the South tour. As the name belies, this excursion focuses on some of the classic music born of the south, with lots of opportunities for sampling mouth-watering cuisine along the way. You'll be able to visit the Country Music Hall of Fame, get a unique look at the life and career of Johnny Cash with a private performance and talk given by his son John Carter Cash, check out memorabilia from legends like Hank Williams, Loretta Lynn and Garth Brooks, and attend America's longest-running live radio show, the Grand Ole Opry.
It's not all about country on this tour, however, with something for just about everyone, including a trip to Graceland, the home of the late Elvis Presley, which now serves as a museum for an in-depth look into the 'King's' life. You'll visit Sun Studios, the self-acclaimed birthplace of rock and roll, where the first single of the genre was reputedly recorded back in 1951 too. Magnificent plantations and historic sites are on the agenda as well, with visits to Natchez, Mississippi and the classic antebellum home known as Oak Alley before culminating with the numerous tasty treats, including Creole creations, in the birthplace of jazz, New Orleans.
More information and to book: Tastes and Sounds of the South
From the Golden Gate to the West's most spectacular national parks
The American West is filled with awe-inspiring national parks as well as exciting cities. The Western Bonanza tour is a trip of a lifetime that kicks off in San Francisco, exploring many of its highlights like the often fog-enshrouded bridge, the city's most iconic landmark and one of the seven wonders of the modern world; hopping on one of the famous cable cars, and sampling the local seafood, including rich and creamy clam chowder served in sourdough bread bowls.
While it's always difficult to say goodbye to such a beautiful city, you'll be able to delve into gold rush history in Sacramento, visit North America's largest alpine lake and take a trip back in time to the Old West along the wooden sidewalks of Nevada's Virginia City soon. The adventure is practically endless, travellling to the eerily moon-like Craters of the Moon National Monument in Idaho before heading to the country's very first national park: wildlife-filled Yellowstone. It includes visits to all those sights you've probably only seen in the movies or on television, like Old Faithful, which shoots boiling water to heights of up to 185 feet. You'll feel small as you stand against the backdrop of the majestic Grand Tetons in Grand Teton National Park, and in Utah marvel at colourful rugged canyons in Canyonlands, and unique stone formations like Delicate Arch in Arches National Park. The Grand Canyon in Arizona is on the itinerary too – peer over the edge into the formidable 227-mile-long, up to 18-mile-wide and mile-deep canyon, with its walls providing a striking mosaic of colours and erosional forms.
This amazing journey also includes the excitement of Las Vegas, and a tour of Hollywood, the Sunset Strip and Beverly Hills, exploring while keeping a close watch for the stars along the way.
More information and to book: Western Bonanza
The vibrant colours of fall and more, minus the crowds in the Canadian Maritimes
While New England is famous for its brilliant fall colour, it tends to attract some of the biggest crowds. For those who would like a more tranquil experience that takes in autumn in all its glory, or have already traveled through America's northeast region, consider the Landscapes of the Canadian Maritimes tour instead. This guided excursion not only brings the opportunity for those impressive fall hues, but the chance to explore the region's history, watch for whales, and sample plenty of gastronomic treats like fresh lobster and scallops too. A more relaxed trip, it includes visits to New Brunswick, Prince Edward Island and Nova Scotia, starting and ending in the picturesque city of Halifax, Nova Scotia's capital which boasts grand historic architecture, museums, and beautiful beaches.
More information and to book: Landscapes of the Canadian Maritimes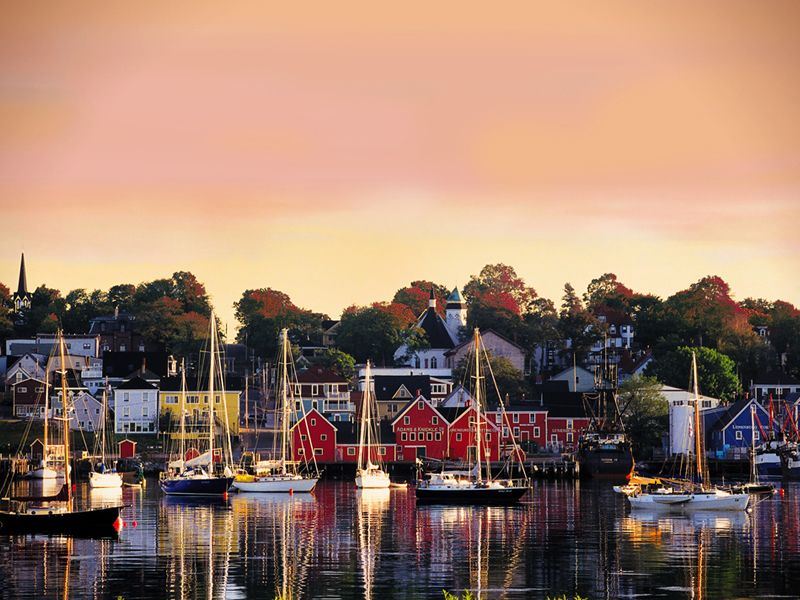 Exploring the highlights of exotic Thailand
One of the most popular destinations in Southeast Asia, Thailand offers everything from exciting cities with world-class entertainment like Bangkok, a rich culture, mouthwatering cuisine and ancient temples, to exotic river cruises and stunning white beaches edged by warm turquoise waters. If you want to truly experience the diverse offerings this "Land of Smiles," with some of the world's friendliest people, you can do it all with no internal flights necessary. Start by taking the Bangkok & River Kwai tour, extending the adventure with an overnight at the unique Float House. Made up of individual floating villas linked by boardwalks, you'll enjoy air-conditioned privacy and a private deck as well as dining at the floating restaurant which serves tasty Thai cuisine overlooking the River Kwai.
Once you've explored Thailand's capital, including a tuk tuk street food tour, riverboat cruises and overnights in both jungle river camps and luxury boutique hotels, along with that unforgettable night in the Float House, you can look forward to a week at the beach. It offers the ideal mix of relaxation, active pursuits and wildlife encounters. Stay at the Aleenta Hua Hin – Pranburi Resort and Spa, set along an unspoiled, golden stretch of sand, where every residence and villa has its own glorious sunset view. Most include a private pool, garden and rooftop sunbathing area. Guests can also take advantage of the indulgent treatments at the onsite spa as well as top-notch dining at its restaurants which feature a mix of Thai and western dishes.
Experience ancient temples and wildlife in beautiful Sri Lanka
Sri Lanka is home to incredible scenery that includes gorgeous beaches and lush mountains, as well as magnificent ancient temples and an abundance of extraordinary wildlife. Nature and adventure lovers will discover the ultimate paradise, and one of the top ways to explore it is by joining the Sri Lanka Experience. Bask in luxury with four- and five-star accommodation - breakfast, dinners and transfers are included, so you can enjoy it all more stress-free.
This trip takes in some of the most spectacular destinations, including Anuradhapura, Pollonnaruwa, Dambulla Cave Temple, Kandy, Nuwara Eliya and Yala national parks. You'll visit the Temple of the Sacred Tooth too, Sri Lanka's most important Buddhist relic, the tooth of Buddha himself. Wildlife encounters are also included, with Yala National Park home to large herds of elephants, some of the highest concentrations of leopards, as well as crocodiles and wild boar. There is so much to do here you may want to extend your stay with an overnight at Jetwing Yala, a beachfront property located just outside the national park. You'll be surrounded by exceptional beauty while enjoying luxurious amenities that include a large swimming pool and a spa for relaxation after game drives.
More information and to book: Sri Lanka Experience
Whales, bears and more, from the coast to the Rockies in wild British Columbia
British Columbia is home to some of North America's most impressive mountain and coastal scenery. If outdoor adventure and viewing wildlife like bears and whales appeals, it would be a challenge to find better. Start by taking the Pacific Rim Whales and Bears tour, which includes excursions like cruises, Zodiac boat trips and even scenic flights. Along the way, just some of the creatures you can expect to glimpse include orca whales, humpbacks and black bears. You'll also get to wander through two of B.C.'s beautiful cities: the capital of Victoria and Vancouver. Continue with an onward adventure in the Canadian Rockies, filled with gem-like lakes, glistening glaciers and dramatic mountain ranges. A scenic drive on the world-famous Icefields Parkway is included, where you'll witness glaciers before they disappear, get a bird's-eye view of the landscape from high above on a gondola ride and enjoy all sorts of activities from hiking and biking to paddling.
More information and to book: Canadian Rockies
Sampling Australia's most iconic destinations
Australia is a vast, diverse country with extraordinary landscapes, all sorts of unique wildlife, breathtaking beaches and laid-back cities. While it would take years to see it all, by taking The Australian Icons tour, you'll be able to experience some of the best the 'Land Down Under' has on offer. It all begins in Melbourne, the cultural capital, a mecca for foodies as well as shopping enthusiasts. From here, travel one of the world's most magnificent drives, the Great Ocean Road which spans over 150 miles along the southeastern coast, taking in dramatic cliff and ocean views as it winds through cool climate rain forests.
This adventure includes close encounters with wildlife like koalas, Tasmanian devils, kangaroos and even penguins as they waddle during the famous "penguin parade" on Summerland Beach. Explore the Outback and its remote towns like Alice Springs, and gaze up at Uluru Rock, one of the nation's most photographed natural wonders. The towering red monolith soars over the red rock landscape at over 1,100 feet, bearing inscriptions carved by ancestral indigenous people. Snorkeling the Great Barrier Reef, learning more about Australia's aboriginal people and a full day of sightseeing in Sydney, including the iconic Sydney Opera House and other city delights, along with world-famous Bondi Beach and a day trip to the Blue Mountains with its waterfalls and eucalyptus forests are all part of this adventure.
More information and to book: Australian Icons
The best of South Africa
South Africa may best be known as one of the world's top safari destinations, but it offers a whole lot more. A bucket list spot for many travellers, you may want to start out with a stay at The Marine, a unique bed and breakfast property set in a tranquil oasis that's ideal for unwinding after a long flight. It overlooks a whale sanctuary, providing some of the best whale watching opportunities around and also hosts two gourmet restaurants, a spa and heated pool.
Now that your refreshed and reenergized, join the Cape Town & The Garden Route tour, which will bring you to many of South Africa's most popular sights. It includes a tour of Cape Point and the peninsula, visits to the Cape Winelands with its lovely vineyards and homesteads as well as a trip to an ostrich farm. Other highlights include the Congo Caves, one of the top attractions in the country, the largest free-flight bird sanctuary in the world, and Tsitsikamma National Park.
More information and to book: Cape Town & The Garden Route
Find your perfect holiday
Talk to our friendly team
01 6649999
Call us 9am-7pm Mon-Fri / 9am-5pm Sat-Sun