Recommended travel bucket list ideas
Given that the world is huge and time is limited, there's little cooler than striking a big tick on your "do-before-you-die" travel bucket list. With this in mind, we've narrowed down the most awe-inspiring attractions and activities that everyone should embark upon in their lifetime. So whether its sauntering along the Great Wall of China, soaking up the splendour of the Grand Canyon, staking out wildlife in South Africa, or gawping at human history at Machu Picchu, it's time to put that wanderlust into action.
Be awed by Churchill's gorgeous polar bears, Canada
The wow factor: It's all about polar bears (also known as the Lords of the Arctic) in Canada's small town of Churchill on the south-western shore of Canada's Hudson Bay. As the Polar Bear Capital of the World, sightings of these graceful creatures are near-guaranteed - especially during October and November when the bears move from their summer hangout on the rocky back to seal-hunting territory on the ice. According to the Manitoba government, there's between 900 and 1,000 polar bears here - all of whom are bigger than you might think (males weigh between 1100 to 1300 lbs and measure up to 11 feet). Interestingly, Churchill is one of the few models in the world for human-polar bear coexistence - it even runs a prison for rogue bears.
Know before you go: While there's varying ways to see Churchill's polar bears and their cute cubs, nothing beats hopping aboard a custom-built Tundra Buggy - the all-terrain vehicle designed to move safely over the snow and ice (and protect passengers from hungry bears). It's a bit of a bumpy ride, but the photo ops are off-the-scale amazing.
More information and to book: Polar Bears Churchill & Tundra Experience
Gaze at Angkor's ancient UNESCO-listed temples, Cambodia
The wow factor: While there's no shortage of heart-stopping thrills at the fabled 12th-century Khmer temple complex of Angkor, it's the enigmatic Angkor Wat that grabs headlines. Translating as "Temple City", this 500-acre structure built roughly between 1113 and 1150 AD by King Suryavarman II to honour the Hindu god Vishnu is one of the world's largest religious monuments - and Cambodia's most treasured architectural masterpiece. Running a close second is the mesmerising 12th-century Bayon at Angkor Thom - the fortified state-temple dominated by 216 colossal stone-chiselled 'smiling' faces on its 54 remaining towers (it was designed as the state temple and personal mausoleum of the much-celebrated King Jayavarman VII).
Know before you go: Best explored at sunrise if you want to beat the crowds and bag yourself a front row spot, the showpiece of the Khmer Empire warrants at least two hours of your time (if you're feeling flash you can max out the views by taking to the skies in a hot air balloon). Also factor in a visit to Ta Prohm - the vine-clad temple that's rooted in adventure (it was dedicated to Jayavarman VII's mother as is nowadays famous for featuring in the 2001 movie, Tomb Raider).
More information and to book: Hanoi, Halong Bay, Hoi An & Angkor Wat
Ride aboard the award-winning Rocky Mountaineer, Canada
The wow factor: As the only scenic train that runs though the Canadian Rockies and across Western Canada during daylight hours, the award-winning Rocky Mountaineer was established in 1990 when Canada's national rail operator VIA Rail sold its Rockies by Daylight scenic train to a private company called Rocky Mountaineer Vacations. Offering scheduled departures between April and October, it operates through the Canadian Rockies in either direction to Vancouver from Banff, Lake Louise, or Jasper - stopping at night so you miss none of the jaw-dropping scenery. Depending on the route, iconic views through the huge expanses of glass include Castle Mountain, Pyramid Falls, Mount Robson, Moraine Lake, Fraser Canyon, and Hell's Gate.
Know before you go: Not only can you expect excellent on-board service (decent-sized and comfy seats, gourmet cuisine, complimentary drinks and snacks), but you'll also be spoiled with ravishing vistas of rainforests, snow-capped mountains, glacier-fed lakes, hoodoos, and more. And the wildlife is just as attention-grabbing; expect to see bighorn sheep, black and grizzly bears, Canadian moose, elk, coyote, cougar, wolverine, and possibly a bald eagle.
More information and to book: Rocky Mountaineer Journey through the Clouds at Leisure & Alaska Cruise
Get up-close with nature in Borneo's biodiverse jungle, Malaysia
The wow factor: There's nowhere on the planet like Borneo - the giant island in Southeast Asia's Malay Archipelago that's home to half of the world's known plant and animal species. It's also where you'll find one of the most biologically diverse rainforests - but also one of the most endangered (conservationists worry that the natural habitat is at risk from intense logging, palm oil plantations, and forest fires). And then, of course, there's the 1,500 orang-utans - the island's most famous residents who steal the show as they swing through the trees either in a sanctuary or in the wild (sadly, the future of these creatures is in serious jeopardy as populations have declined 50 per cent over the past 60 years, according to the World Wildlife Fund).
Know before you go: As the most important sanctuary for more than 5,000 wild orang-utans in Borneo, Tanjung Puting National Park covers 1,174-square-miles of extensive coastal tropical heath and peat swamp forest. Made famous by the long-term research carried out by primatologist, conservationist and author Dr. Biruté Mary Galdikas, the park is also home to numbers of proboscis monkeys, clouded leopards, sun bears, wild boars, gibbons, and deer.
More information and to book: Borneo Jungle & Beach
Be amazed by the landscape of the Grand Canyon, USA
The wow factor: Arizona's undisputed superstar, the Grand Canyon is the 277-mile-long UNESCO World Heritage Site that delivers visual thrills of epic proportions; think painted deserts, layered rock formations, mesas, plateaus, streams, waterfalls, and the mighty Colorado River. It's also the USA's most most-trafficked national park (about 4,000,000 people visit each year), tempting adventurous souls with walks, hiking, cycling, white-water rafting, helicopter rides, and wildlife-watching galore. For the ultimate adrenaline surge, be sure to ride one of the two new ziplines to get you across Grand Canyon West (both are located at nearly 1000 feet above the canyon floor; the first line is 1,100-feet-long and the second line is practically double that).
Know before you go: If you can stomach it, factor in a visit to the Skywalk - a horseshoe-shaped bridge with a glass walkway that extends 70 feet out from the edge of the West Rim and offers views 4,000-feet straight down to the canyon floor. Unsurprisingly, this has become one of the area's best-selling attractions since opening in 2007 (it is owned and managed by the Hualapai Indian tribe and located 250 miles - a five-hour drive - from the park's South Rim).
More information and to book: Enchanting Canyonlands
Set foot on some of the Great Wall of China
The wow factor: A bucket list staple, China's staggeringly huge Great Wall stretches across 13,170 miles from east to west, crossing nine provinces and municipalities. Officially the longest wall in the world (which contrary to legend cannot be seen from space), it was built during the Zhou Dynasty in 770 BC and lengthened in stages over a period of 2,000 years (the most recent addition was during the Ming dynasty). While it's impossible to walk the full length of this UNESCO-listed architectural marvel, it can be explored by cable car, chair lift, and even toboggan. However, most end up hoofing it along the most popular sections around Beijing's north and east, including Jinshanling for its Great Wall hiking route, Mutianyu for its watchtowers and fortresses, and the aesthetically-pleasing Simatai for its unique night tours.
Know before you go: Located 40 miles northwest of Beijing, the Badaling Great Wall (also known as Ba Da Ling) is the wall's most-visited, most-preserved, and most-completed section. Open to the public since 1957, it's a pretty easily climb given that most stairs are not very steep and you have the added luxury of handrails. The total length of this section is 7.5 miles, of which only 2.3 miles and 19 watchtowers have been restored to their former glory.
More information and to book: Explore China
Enjoy a soul-stirring safari in stunning South Africa
The wow factor: Of all the places offering once-in-a-lifetime safari jaunts, the fabled Kruger National Park gets all the love for being the most diverse (it's also one of the largest in the world at 7,523-sqare-miles). For khaki-clad newbies and seasoned pros, encounters of the wild kind are reliably good in this world-famous wilderness - especially if you're keen to stake out the Big Five (a term coined by big game hunters to reference lion, leopard, buffalo, rhino and elephant). There's also 507 species of bird, 2,000 tropical and subtropical plant species, and heaps of Insta-worthy landscapes such as wetlands, granite hills, winding rivers, grass plains, and savannahs (the very brave should consider at least one night camping out under the stars).
Know before you go: Accessible both by a game drive or a self-drive, the Hluhluwe Umfolozi Game Reserve (now known as the Hluhluwe-Imfolozi Park) is the only state-run park in the coastal province of KwaZulu-Natal where you're likely to see at least one or all of the Big Five. Established in 1895, it is famed as the cradle of global rhino conservation and credited with saving the white rhino from extinction (Operation Rhino kicked off here in the 1960s).
More information and to book: Cape Town, Blue Train & Safari Self-Drive
Enjoy the adrenaline rush of bungee jumping in Queenstown, New Zealand
The wow factor: The activity that transformed the sleepy village of Queenstown in the south-west of New Zealand's South Island into the Adrenaline Capital of the World, bungee jumping is taken very seriously in Queenstown (it was here where AJ Hackett and business partner Henry van Ache launched the world's first bungee business on the historic Kawarau Bridge in 1988). Since then, plenty of spots have popped up for daredevils to jump from dizzying heights with nothing but an oversized elastic band strapped around their ankles. But nothing comes close to Hackett's Nevis Bungy (he prefers bungy to bungee) for a nail-biter that takes you 134 metres above the raging waters of the Nevis River before freefalling for 8.5 seconds.
Know before you go: Further places to make the leap of faith include the 43-metre Kawarau Bridge Bungy (the world's first commercial bungee site) and the 47-metre Ledge Bungy (a purpose-built jump pod located 400 metres above Queenstown). Have-a-go thrillseekers can also try their hand at a mix of sporting activities such as canyon swinging, whitewater rafting, river surfing, jet boating, kayaking, hang gliding, ziplining, mountain biking, and skydiving.
More information and to book: Queenstown holidays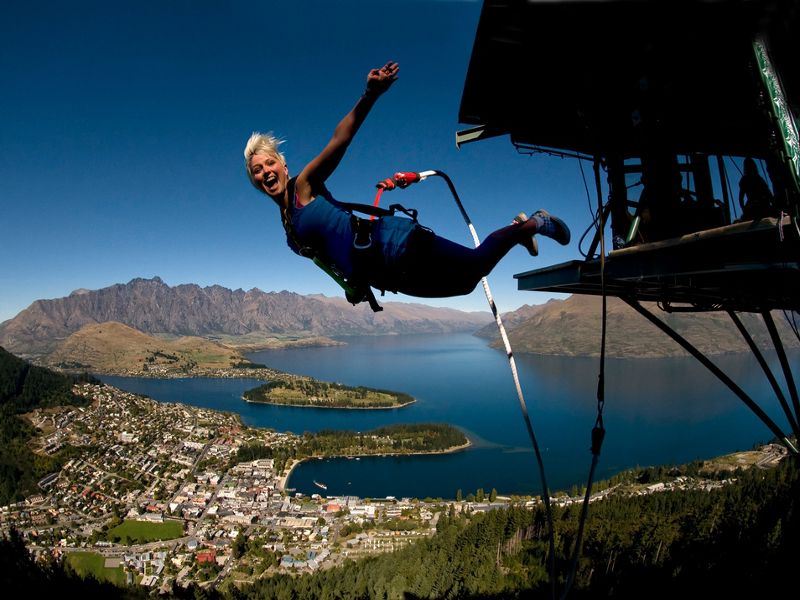 Visit the awe-inspiring Incan city of Machu Picchu, Peru
The wow factor: Added to UNESCO's list of endangered sites in 2016, the time-sensitive Machu Picchu is the remote Incan citadel high in the forest-clad Andes mountains at an altitude of 7,972- feet above sea level (altitude sickness kicks in at 8,000 feet). For many, it's as much about the journey here as the arrival (only 500 people per day - about 300 of whom are porters and guides - are allowed to walk the classic Inca Trial and about 2,500 per day are allowed entry to Machu Picchu). And while it pays to do your research, nothing can prepare you seeing this 550-year-old masterpiece (often called 'Lost City of the Incas') for the first time - and trying to work out what, exactly, this historic settlement in the sky might once have been.
Know before you go: If you're hoping to see this archaeological treasure trove in all its glory (clear blue skies, sun-dappled stone ruins, jungle covered granite peaks, swirling clouds), visit during the dry season between May and October (even then there may be times when heavy mists obscure your views). Try to avoid travelling here in February when the Inca Trail path routinely closes for annual maintenance works and conservation project developments.
More information and to book: Best of Peru and the Amazon
Watch the mother of all sunrises and sunsets at Uluru, Australia
The wow factor: Known as Uluru by the Pitjantjatjara Aboriginal tribe long before English-born explorer William Gosse named it Ayers Rock in honour of South Australia Chief Secretary Henry Ayers, Australia's geological wonder draws millions to Uluru Kata Tjuta National Park in the Northern Territory's Red Centre. Much more than a lump of sandstone, this UNESCO World Heritage Site is the second-largest monolith in the world, reaching 2,831-feet above sea level (the first is Mount Augustus, also in Australia). Climbing Uluru has sparked much controversy over the years and plans are in place by the park's traditional owner-managers (the Anangu people) to ban this pastime completely from 2019 due to indigenous sensitivities.
Know before you go: Whether you choose to climb this sacred giant red monolith or not, the views are magical; especially at sunrise or at sunset when the terracotta and rusty brown hues turn into fiery bright reds (shutterbugs should head to the Car Sunset Viewing Area at dawn to capture the rock in silhouette). Equally worthwhile is scaling the landscape by hopping on the back of a Harley, riding on the back of a camel, or booking a scenic helicopter tour.
More information and to book: Ayers Rock & The Ghan
Find your perfect holiday
Talk to our friendly team
01 6649999
Call us 9am-7pm Mon-Fri / 9am-5pm Sat-Sun