Holidays & Tours in South & Central America
Holidays & Tours in South & Central America
Holidays & Tours in South & Central America
Holidays & Tours in South & Central America
Holidays & Tours in South & Central America
Holidays & Tours in South & Central America
Holidays & Tours in South & Central America
Top 10 most photogenic wonders in South & Central America
Fewer places on the planet roll out such a dizzying amount of natural wonders like South & Central America - the sun-soaked regions both celebrated for their legendary cities, ancient ruins, epic waterfalls and mountains, and diverse landscapes of beach, jungle and desert. We reveal some of the most exciting and eye-popping places where budding photographers can step behind the lens and generate plenty of Instagram envy.
#10
Visit fascinating old and new temples
South & Central America have always been a persuasive draw for those eager to explore the great ruins of the Maya, Inca, and Aztec worlds. And while Peru's majestic Machu Picchu gets a good chunk of the glory, you'll find a wealth of wonderful religious ruins dotted around the region - all of which have spiritual significance. Some of the most photogenic sites include Mexico's Chichen Itza for its towering El Castillo (also known as the Temple of Kukulcan), Belize's Lamanai for its superb Mask Temple, High Temple, and Jaguar Temple, and Honduras' Copán for its impressive Hieroglyphic Stairway that rises 21-metres up the western face of Temple 26. Equally dazzling is the mesmerising Bahá'í House of Worship in Chile's metropolis of Santiago; not least for its fantastical and futuristic design that includes nine monumental glass veils (opened in 2016, this award-winning architectural triumph took 14 years to complete).
Get the shot: Just an hour's drive from Flores, the colourful Guatemalan town of Tikal is the perfect base for working your way around the 3,000-plus Mayan buildings, pyramids, and temples at the nearby UNESCO World Heritage Site. The kingdom is believed to have been one of the Maya's most powerful, and it dominated much of the Mesoamerican region from 200BC to 900AD. Don't leave without climbing Temple IV at sunrise or sunset for the view that featured in 1977's Star Wars Episode IV: A New Hope (it doubled for the fourth moon known as Yavin 4).
#9
Spend time in the incredible deserts
South America's big-name deserts never disappoint for powerful imagery of sand, dust, rocks, cactus, and weird and wonderful creatures. But they also throw up a fair few unexpected surprises. For many photographers, the best of the bunch is Chile's remote Atacama Desert - an otherworldly lunar-like landscape fuelled by snow-capped Andean mountains, salt lakes, thermal pools, rust-coloured ravines, mineral-rich lagoons, stargazing skies, and volcano-topped horizons (NASA deemed this place the driest desert in the world). Alternatively, try Argentina's semi-arid Patagonian Desert for marvelling at the 2,600-year-old Alerces Tree, enjoying outdoorsy pursuits such as hiking, rock climbing and horseriding in El Chaltén's surrounding mountains, and checking out the fun dinosaur attractions. Equally memorable is Peru's Ocucaje Desert for its dune buggying and sandboarding (should time allow, take a flight over the ancient Nazca Lines).
Get the shot: Nothing prepares you for the awe-inspiring Salar de Uyuni, the largest salt flat in the world (it contains 50 to 70 per cent of planet's lithium reserves). Located in Bolivia's southwest corner, this blindingly bright landscape stretches for over 4,050-square-miles of the Altiplano and rewards with sightings of wild flamingos, desert dunes, red and turquoise lakes, and volcanoes (each season offers different vistas so you can play with the perspective). Just remember that this place is nearly 12,000- feet above sea level, so altitude sickness is a given.
#8
Make the most of the swoon-worthy coastline
Given that its long coastline includes stretches of the Caribbean, Atlantic, and Pacific oceans, South America has no shortage of beaches for soaking up the carioca spirit, playing futevolei (foot volleyball), practicing paddleboarding, photographing the bronzed and the beautiful, and soaking up the sea and sunshine. The most famous is easily Copacabana Beach (also known as Little Princess of the Sea) in Brazil's Rio de Janeiro; not least for its iconic waved boardwalk, four-kilometre stretch of golden scalloped sand, and legendary party vibe. Further sandy hotspots include Cabo Blanco in Peru, La Caleta in Columbia, El Agua in Venezuela, Mancora in Peru, Montanita in Ecuador, and Cabo Polonio in Uruguay. In Central America, make a beeline to Roatan in Honduras, Manuel Antonio in Costa Rica, Emerald Coast in Nicaragua, Playa Tamarindo in Costa Rica, Placencia in Belize, and the San Blas Islands in Panama.
Get the shot: A spellbinding slice of Colombia's Caribbean coast, Tayrona National Natural Park stretches over 35 miles; from the Bahía de Taganga near Santa Marta in the west to Rio Piedras in the east. Covering roughly 12,000 hectares of land and 3000 hectares of sea at the edge of the steep Sierra Nevada de Santa Marta mountain range, it offers the best of all worlds: palm-fringed golden beaches, lush green jungle teeming with monkeys and birds, numerous trails for hiking and walking, and glorious sunrises and sunsets across glittering tropical waters.
#7
Seek out cultural thrills in the legendary cities
South & Central America serve up some of the most soulful urban destinations on the planet; from the charmingly chaotic to the hedonistic and glamorous. Visit Bogota in Colombia for its amazing street art, friendly locals, flourishing dining scene, and pre-Hispanic art museums, head to La Paz in Bolivia for its famed cable car system and crazy wrestling matches, or stop off in Quito in Ecuador for its well-preserved colonial centre, picturesque plazas, and peaceful neighbourhoods (at 2,850-metres, it's also the world's highest capital). Equally worthy of your attention is San José in Costa Rica for its grandiose national theatre, colourful street markets, late-night haunts and adrenaline-pumping amusement park, and Lima in Peru for its pre-Columbian artworks, vast historical centre, fabled peñas (small bars), thriving surf culture, and high-ranking and revolutionary restaurants (it's the official culinary capital of South America)
Get the shot: Grand boulevards, leafy parks, inspiring architecture, and milongas (dance salons) make Argentina's capital of Buenos Aires one of the most compelling in the world. Must-dos including marvelling at the bright Crayola-coloured buildings of La Boca, market-hopping at San Telmo, and visiting the mausoleum of Eva Perón at the hauntingly beautiful La Recoleta Cemetery. The headline-grabbing Plaza de Mayo, Plaza Dorrego, Teatro Colón, Parque Tres de Febrero, and Buenos Aires Japanese Gardens will also reward with remarkable shots.
#6
Get lost in the beauty of nature at the waterfalls
Waterfalls of all shapes and sizes steal the show in South & Central America, with many hailed as the world's longest, widest, deepest, or most powerful. Some of the best places to see these cascading beauties crash down from up high include Ecuador's Agoyán, Pailon del Diablo and Rocio, Brazil's Cascata do Caracol, Serra do Cipo's Falls and Taquarussu's Falls, and Venezuela's 3,212-foot-high Kerepakupai-Meru (formerly known as Angel Falls). Another perennial crowdpleaser for shutterbugs is Costa Rica, where highlights include Fortuna Waterfall at Arenal Volcano for its blue base pool, La Paz Waterfall Gardens in Cloud Forest for its five waterfalls, and Rio Celeste Waterfall in Guanacaste for its tropical surrounds. Equally mesmerising is the Montezuma Waterfalls on the Nicoya Peninsula for its three different falls: Top Waterfall at 15-feet, Middle Waterfall at 40-feet, and Lower Waterfall at 80-feet.
Get the shot: Nothing prepares you for the size, scale and splendour of Iguazu Falls, the series of 275 individual drops straddling the border of the Argentine province of Misiones and the Brazilian state of Paraná (the two areas were designated UNESCO World Heritage Sites in 1984 and 1987 respectively). Measuring 1.7-miles in width and 269-feet in height, not only is it taller than Niagara Falls, but it's twice as wide. Make use of the special grated walkways to get dramatic up-close shots - or take a helicopter ride for uninterrupted views and far less splash.
#5
Be wowed by the colourful and spirited carnivals
With its roots in Catholic traditions exported to South & Central America by Spanish colonists, carnival season runs from late January to early March (the time leading up to Lent). And while the celebrations are country-specific (some are far more exuberant and extravagant than others), they all incorporate music, dance, and colourful costumes. Some of the most iconic include Bolivia's Oruro Carnival for its incredible Diablada (the dance of the devil), Columbia's four-day Barranquilla Carnival for its spectacular six-hour Battle of Flowers parade complete with flamboyant floats and folklore groups, and Ecuador's Riobamba Carnival for its spirited celebrations with foam, flour and water (it can get messy). Another visual stunner is Venezuela's El Callao Carnival, not least for its two distinctive costume styles: Madamas in traditional African headscarves and showy robes and Devils in red-and-black outfits with frightening masks.
Get the shot: The world's ultimate carnival (the city has indeed become synonymous with the event), Rio de Janeiro is a visual spectacle complete with extraordinary gravity-defying costumes, glittering floats, truckloads of musicians and dancers, and millions of revellers. Those who have the stamina can get their groove on from dusk until dawn as the parties (known as bandas or blocos) weave their way through the neighbourhoods. First-timers should head to the Sambódromo to watch Rio's best samba schools battle it out for the Rio Carnival winner's title.
#4
Discover the staggeringly beautiful mountains
Although South & Central America are located on entirely different continents, both assure unique mountain ranges. The most famous of the lot is the Andes, the longest mountain range in the world that stretches for about 4,500-miles (the entire western coast of South America) and spans seven countries: Venezuela, Colombia, Ecuador, Peru, Bolivia, Chile, and Argentina. Named for the Quechua word anti (meaning east) and divided into three sections (Wet Andes, Dry Andes, Tropical Andes), the extremely high or low temperatures at different altitudes present formidable challenges even for the most experienced of mountaineers. Many of its peaks surpass the 20,000-foot mark; most notably Mount Aconcagua at 22,841.207-feet (one of the Seven Summits of the world), Mount Ojos del Salado at 22,608.268-feet, Monte Pissis at 22,283.465-feet, Mount Huascarán at 22, 204.724-feet, and Mount Bonete at 22,175.197-feet.
Get the shot: Pack a wide-angle lens for sweeping landscape shots in Patagonia, the rugged region covering 400,000-square-miles at the base of South America (it spans the lower sections of Argentina and Chile). You'll struggle to find a better place for photos, especially around the wildflower-studded alpine meadows and the jagged mountaintop glaciers that stretch as far as the eye can see. If walking around becomes too overwhelming, head the alpine town of Bariloche on the banks of Nahuel Huapi Lake and book yourself on a half- or full-day guided cycling tour.
#3
Get up-close(ish) with wondrous wildlife
South & Central America's wildlife will inspire anyone to grab their camera and photograph creatures big and small. The roll call of nature is immense; from snap-happy crocodiles, sea lions, giant tortoises, monkeys and iguanas, to birds such as toucan, kingfishers, parrots, horned screamers, raptors, plovers, terns, and macaws. Some of the best wildlife-watching spots include the magnificent Peruvian Amazon for its jaguars, woolly monkeys, condors, giant river otters and Andean cock-of-the-rocks, the glacier-dotted interior of Patagonia for its flamingos, elephant seals, right whales, and guanacos, and the isolated Galapagos Islands for its creatures that can be found nowhere else on the planet. Equally standout are the open marshes of Brazil's Pantanal - the world's largest tropical wetland area that's part national park and part UNESCO World Heritage Site (expect sightings of green anacondas, giant anteaters, and huge snakes).
Get the shot: Costa Rica hosts five per cent of the world's biodiversity and is home to over 220 reptile species, 6,700 marine species, 9,000 plants, 20,000 spider species, 34,000 insect species, and 1,000 butterfly species - many of which can be found in its 26 national parks. It's also where you'll find the brightly-coloured Agalychnis callidryas (more commonly known as the red-eyed tree frog) - the iconic rainforest native that can jump up to a metre-and-a-half in length.
#2
Enjoy a magical jungle adventure in the Amazon
The thrills come fast and furious in the Amazon, the world's largest tropical rainforest covering over 5.5-million-square-kilometres and spanning across Brazil, Bolivia, Peru, Ecuador, Colombia, Venezuela, Guyana, Suriname, and French Guiana. Running through the north of this wonderland is the Amazon River, the second longest in the world (after the Nile) that flows a length of around 6,4000-kilometres. As you'd imagine, the ecosystem in this vast wilderness (continually at the heart of global climate concerns) is incredibly rich: think 40,000 plant species, 1,300 bird species, 3,000 types of fish, 430 mammals, and 2.5 million insects (according to the WWF, a "new" species of animal or plant is discovered here every three days). The best way to get to grips with this region is by joining a guided jungle tour or taking a riverboat cruise. Be sure to check your meds prior to travel as most of the Amazon is a malaria zone.
Get the shot: Given that nearly two-thirds of the Amazon rainforest is found in Brazil, it comes as no surprise that a huge amount of operators offer unique experiences both on land and on the elaborate series of waterways. Plan your rumble-in-the-jungle adventure very carefully; while rain occurs year round, it is at its heaviest between December and April (by contrast, July and August can be largely dry). A week here is ideal and gives you ample time to hike, spot wildlife, fish, climb trees, learn about the forest, and visit the peaceful riverside communities.
#1
Hit the coolest and most challenging hiking trails
The most iconic trail hiking South America, the Inca Trail has always enchanted those keen to travel through some of the most spectacular Andes scenery on their way to the Machu Picchu (it's usually a four-day trek and is as gruelling as it is gratifying). But the region is home to more undiscovered treks than these much-lauded 26.5-miles, including Chile's W Trek in Torres del Paine, Colombia's Lost City Trek to Teyuna National Park, Argentina's Quebrada de Humahuaca to Calilegua National Park, and Ecuador's Volcano Trek to Cotopaxi National Park. Another terrific option is the Venezuela's Summit Trek to Mount Roraima - an eight-day journey right to the top of this "floating island" plateau that sits 7,671-feet above the forest floor. As you'd imagine, the wow-factor is high; expect dense jungle, cascading waterfalls, and tranquil lagoons (the area inspired the dinosaur-infested landscapes of Sir Arthur Conan Doyle's novel The Lost World and the waterfalls doubled as Paradise Falls in the 2009 Pixar movie, Up).
Get the shot: Described as a "historical sanctuary" by UNESCO, the 550-year-old Inca citadel of Machu Picchu (often called The Lost City of the Incas) is located high in the forest-clad Andes Mountains at an altitude of 7,972-feet above sea level. There's enough here to keep you snapping away like crazy for weeks, especially if you're visiting during the dry season (May and October) when the light is perfect for capturing swirling clouds, sun-dappled stone ruins, jungle covered granite peaks. Note: your tripod may be confiscated on the gates if you have no permit.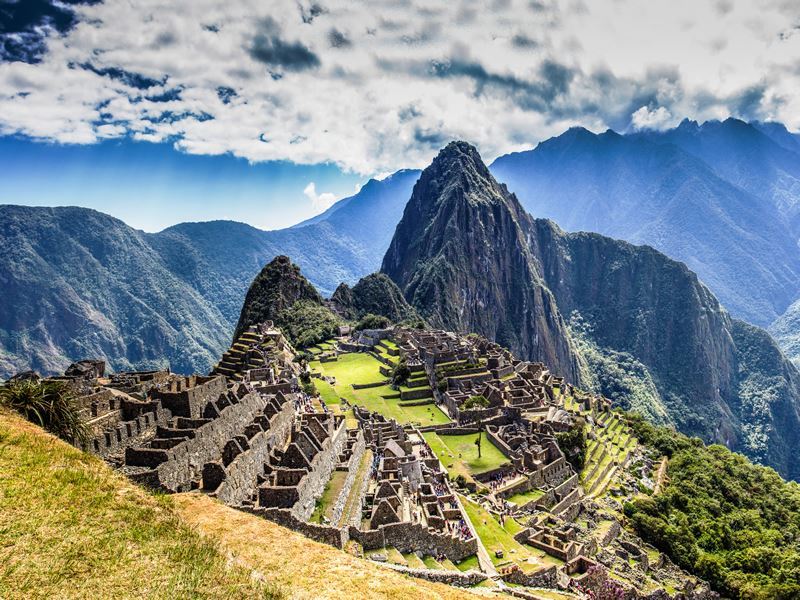 Find your perfect holiday
Talk to our friendly team
01 6649988
Call us 9am-7pm Mon-Fri / 9am-5pm Sat-Sun