Bali & Star Clipper Cruise
11 Night from €3,249 per Person Including Flights
Included:

Flights & taxes

Accommodation

Transfers

Checked baggage

CAR licensed & bonded

In resort assistance & 24 hour contact centre
Overview
Discover some of Indonesia's most impressive archipelagos and islands on these two fantastic Star Clippers cruise itineraries. Both starting with a three night stay in Bali Island, both itineraries will then take you on a picturesque journey through unspoilt paradises, venturing through lesser-known spots and offering a relaxing, beautiful cruise through Indonesia's cultural landscapes. Each trip will then end with a one night hotel stay in Benoa, Bali Island.
The Star Clippers ship reflects the nautical heritage of old-time sailing ships, oozing both old traditions, and the more modern comforts of the present day. Authentic ship exteriors are blended with contemporary state rooms and facilities, including DVD players, and even scenic verandas, offering a charming, old-style ambience as you sail through tropical destinations, including Komodo National Park and Lovina Beach.
Further reading: Bali and Star Clipper Cruise features in our guide to the top 10 holidays combining culture with beach relaxation.
Details
Eastbound
Days 1 – 3
Your holiday will begin with a three night hotel stay at the boutique resort of The Pavilions, allowing you to relax and experience Bali's rich culture. Alternatively you can choose another hotel in which to begin your Indonesian adventure.
Day 4

Benoa
You'll have another day to explore Bali Island before boarding the Star Clipper at Benoa
Day 5
Gili Kondo (Lombok Island)
Today you will visit Gili Kondo, a beautiful, small tropical island that's completely unspoilt and uninhabited. Spend the day soaking up the sun and enjoy the white sand beaches.
Day 6
At sea
Day six will be spent travelling at sea.
Day 7
Komodo National Park & Pink Beach (Komodo Island)
Begin your day by visiting Komodo National Park. Declared a National Park in 1980 to protect the Komodo dragons that live there, this rugged is a great area to spot a myriad of marine wildlife, including sea turtles and orange footed scrub fowl. Afterwards, you'll head to Pink Beach, one of only seven beaches that have sweeping pink sands, and home to fantastic snorkelling.
Day 8
Satonda Island
The day will start by exploring Satonda Island, home to an extinct volcano and a spectacular black lake, as well as a lush forest full of fruit bats.
Day 9
Gili Meno & Gili Trawangan (Lombok Island)
First you'll explore Gili Meno, the smallest of the Gili Islands and also the most peaceful and unspoilt. You'll feel as if you've completely escaped from the world at this wonderful area. You'll then venture to Gili Trawangan, with crystal clear reefs and plenty of fun diving sites.
Day 10
Gili Nanggu (Lombok Island)
Spend a day in paradise at this stunning island, with dreamlike beaches and a truly tranquil ambience.
Day 11
Benoa
Today you will disembark the Star Clipper ship and check-in to a hotel for the night.
Day 12
Your tour ends here. Either travel to the airport, or we can arrange a longer stay for you.
Westbound
Days 1 – 3
Bali Island
Start your Indonesian adventure with a three night hotel stay at the boutique resort of The Pavilions, or perhaps choose another resort for the beginning of your holiday
Day 4
Benoa
Today you will have a few more hours to explore, before boarding the Star Clipper ship at Benoa.
Day 5
At sea
Your day will be spent at sea as you travel to your next destination. Head on to the deck and marvel at the views.
Day 6
East Madura/Giligenting Island
Today you will explore your first port of call, Giligenting - a small island that sits to the south east of the large island of Madura, and host to jungle clad mountains and powdery white sand beaches.
Day 7
Probolinggo (Java Island)
This vibrant city is the gateway to the incredible Bromo-Tengger-Semeru National Park, full of sweeping paddy fields, waterfalls, and rugged landscapes
Day 8
Lovina Beach
Spend a whole day relaxing in the sand and soaking up the sun at Lovina Beach, a lovely stretch of beach home to tourist stalls, small seaside villages, and a myriad of tropical marine life. You could even take a dolphin watching tour.
Day 9
Carik & Senggigi Beach
Today you'll visit Carik, before journeying to the incredible Senggigi Beach. With a brilliant backdrop of soaring mountains and wonderful restaurants, this beach is a main tourist spot on Lombok Island, and for good reason.
Day 10
Gili Sudak
Tropical fish and starfish reside in the crystal clear reefs that surround this gorgeous beach area.
Day 11
Benoa
Today you will disembark the Star Clipper ship and book in to a hotel for the night.
Day 12
Fly home
TODAY
28ºC
FRI
28ºC
SAT
29ºC
SUN
30ºC
MON
30ºC
Jan
Feb
Mar
Apr
May
Jun
Jul
Aug
Sep
Oct
Nov
Dec
Average Temperature (Celsius) Average Rainfall (Inches)

7

7

6

2

1

1

1

0

1

1

2

5
Average Temperature (Celsius) Average Rainfall (Inches)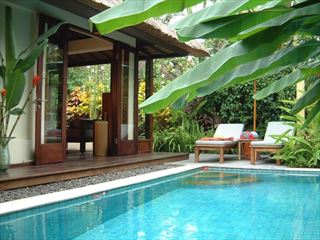 A delightful hideaway that is perfect for couples and honeymooners. Lying in a tranquil location, yet just a short stroll away from the shops and resturants of Sanur beach, this 25 villa luxury boutique style is the place to relax and unwind.
A four-mast sailing ship, Star Clipper is an elegant cruising experience unlike anything else you'll find on the waters. Truly impressive and elegant, you'll enjoy an unforgettable journey with fantastic food and modern amenities.