Far East & Asia travel top 10s
Rich culture, stunning beaches, flavoursome cuisine – the Far East is a truly captivating destination. This region is perhaps one of the most vibrant in the world, perfect for those hoping for adventure and to delve into a completely different culture to their own.
Teeming with history and heritage, the countries are adorned with wonderful attractions, from magnificent temples, to ancient rivers framed with colourful floating villages. Beautiful rice paddies sweep across the landscapes, and hundreds flock to the markets to indulge in sumptuous street food. Southeast Asia is a hub of excitement, colour and culture, and we've collated our top 10 favourite things to do whilst travelling through this wonderful region.
Gently swaying palm trees, acres of pristine white sand, and azure lagoons abundant in exotic marine life – the beach regions of the Far East paint an idyllic picture for romantic beachside holidays. Don't forget the kids either – adventurous families will relish exploring exhilarating jungles, teaching younger travellers about an entirely new culture, or simply enjoying a beachside break somewhere new.
Whether you fancy staying in a rustic cottage by the beach, or indulging in a lavish boutique near the city, the accommodation in this part of the world is nothing short of luxurious. Rich interiors and astonishing amenities only add to the charm of staying in this eclectic region. No matter where you go, what you do, or who you are, we're certain you will be enchanted by the splendour of the Far East.
India
This diverse country is one of contrasts. Quiet, traditional villages are juxtaposed with bustling cities, peaceful temples are close by to lively festivals, and warm sun-kissed beaches are contrasted with the icy snow-shrouded Himalayas. A trip to India is nothing short of spectacular, transporting you to a multi-cultural world with a fascinating past and a vibrant present.
Top 10 things to do in India
Of course, exploring the jaw-dropping Taj Mahal will be on top of your list – and for good reason. But in our top 10 things to do in India, we've selected an array of different experiences that will stay with you forever. India defies description, and these adventures will stick inside your mind as some of the most eye-opening, from staying in a marble white palace and exploring Buddhist caves, to visiting the fascinating holy city of Varanasi and enjoying a colourful festival.
Vietnam
Vietnam is fast becoming one of the world's most popular destinations for backpacking and enjoying a taste of an entirely new culture. The deep history of this country is completely compelling, enticing many to immerse themselves in Vietnam's heritage and enjoy the area like a local. Amazing food, gripping historical attractions, cities fusing tradition with modernity – Vietnam is an epic adventure.
Top 10 things to do in Vietnam
Sailing on junk boats past jagged limestone cliffs, visiting amazing Buddhist temples, tasting foodie delights, and gawping at unbelievable scenes of rolling mountains and sugary beaches. Check out our favourite things to do in Vietnam for even more inspiration.
Top 10 things to do in Hanoi
Vietnam's capital is a lively place. This makes it ideal for those with itchy feet, who desire delving completely into new worlds rather than spend their time by the beach. Magnificent colonial architecture in the Old Quarter is mixed with jaw-dropping pagodas and markets abundant in hunger-inducing smells and bright colours. It's hard to know where to start – but our top 10 Hanoi highlights should help inspire you.
Top 10 things to do in Saigon
Also known as Ho Chi Minh City, Saigon is another exciting city that sets the path for lively urban living. Amongst the fascinating floating markets, spectacular pagodas and eye-opening Cu Chi Tunnels are the hip rooftop bars, flavoursome food tours and art museums, making this perhaps one of the most eclectic cities you'll come across. All the best things to do are included in our top Saigon recommendations, why not check them out.
Cambodia
Whether you're soaking up the culture or soaking up the sun, Cambodia will ignite all the senses and offer a truly immersive insight into a country full of history, tradition and charm. With a mix of lively cities, deserted beaches, verdant jungle and soaring mountains, Cambodia's outdoor playground is a hit with travellers, all ending their days with the most delicious street food for a true taste of the region.
Top 10 things to do in Cambodia
In beautiful Cambodia, you can choose to either spend your days relaxing on sun kissed beaches, exploring the vibrant streets full of cool restaurants and bars in Phnom Penh, or gazing at the wonderment of the Angkor Wat complex. Or, if you really fancy a trip to remember: try and do it all. See how many you can tick off our list of top 10 things to do in Cambodia.
Thailand
Thailand is one of the biggest jewels on the Far East - a spiritually, environmentally and culturally rich country where no day is the same. Beaches with silky sands framed by thick rainforest, dynamic cities full of stylish bars and restaurants, buzzing markets full of arts and crafts and delicious food, secluded islands offering refuge from the modern world, cultural traditions that will open your eyes to an entirely new world. It's all possible in Thailand.
Top 10 things to do in Thailand
Travelling to such a diverse country always begs the question – where should I start? From the magnificent temples we think shouldn't be missed, to our favourite diving spots and beaches to unwind on, reading our top 10 things to do in Thailand should help get you started.
Top 10 most photogenic wonders in Thailand
Everywhere you turn in Thailand, there's an amazing photo opportunity. Whether it's the glint of the sun shining on a golden temple, the beautiful blue waters lapping on pristine sands, the smorgasbord of foods and crafts in a bustling market – you'll need your camera permanently switched on. For a dose of inspiration for you budding travel photographers, check out our 10 most photogenic wonders in Thailand.
Top 10 luxury hotels in Thailand
Thailand may be a backpacker's paradise, but that's not to say that you need to skimp on budget accommodation. Thailand's luxury hotels are truly jaw-dropping, pairing a spectacular setting with opulent interiors, stunning infinity pools, and usually a gorgeous spa to boot. Our favourite retreats can be found on our top 10 list of luxury Thai hotels.
Top 10 boutique hotels in Thailand
How about a unique hotel for your trip of a lifetime? The usual luxuries can be found – effortless indulgence, glamorous amenities, top-class service – but these gorgeous hotels add that extra touch of je ne sais quoi that make them stand out from the crowd. From interiors inspired by the history of Chiang Mai, to massage salas that float on a lotus pond, be sure to choose from our top 10 boutique hotels in Thailand.
Top 10 family hotels in Thailand
With so many fantastic family-friendly hotels to choose from, there's nothing stopping you from taking the kids to somewhere that will open their eyes to the world beyond their usual home life. Our recommendations for family hotels in Thailand offer a delightful mix of culture, fun, and luxury.
Top 10 romantic getaways in Thailand
The clink of champagne glasses as you watch the sun set over the horizon, the feeling of sand between your toes as you stroll along the water's edge, a sense of peacefulness as you enjoy a couples' massage – Thailand offers a magical setting for an unforgettable getaway with your loved one. Our favourite romantic retreats in Thailand will certainly spark passion and romance.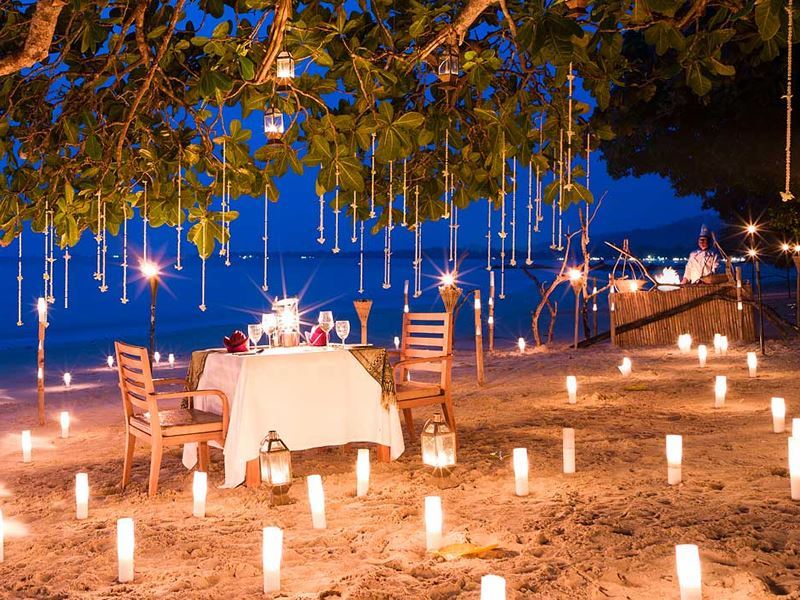 Top 10 restaurants in Bangkok
Your taste buds won't know what hit them when you first sneak a taste of Bangkok's tantalising foodie scene. Of course, the vibrant food markets are a great way to try out the city's authentic bites, but head inside our top 10 restaurants in Bangkok and you'll be introduced to a flavoursome world of contemporary and dynamic cuisine.
Top 10 rooftop bars in Bangkok
Think of Bangkok, and the first thing to spring to mind probably wouldn't be 'rooftop bars'. Nevertheless, our top 10 rooftop bars in Bangkok will soon change your mind. There's a world full of style, glamour, and incredible cocktails high above the city skyscrapers, offering the opportunity to marvel at Bangkok's bright, bustling city from a new height.
Top 10 things to do in Chiang Mai
Breaking away from the hustle and bustle on Bangkok, Chiang Mai is an utterly charming, sleepy town that really packs a punch when it comes to things to do. From getting a glimpse into the everyday life of the locals and lunching on a peaceful lake, to ziplining through the jungle and meeting elephants, our top 10 activities in Chiang Mai are just the beginning.
Malaysia
Malaysia truly embodies everything that makes the Far East such a charming and fascinating place. This beautiful destination really caters for every kind of traveller too – cosmopolitan lovers will relish a week spent gazing at Kuala Lumpur's towering skyscrapers, whilst those hoping for a more authentic experience will appreciate the natural beauty of Penang.
Top 10 things to do in Malaysia
Travelling around such a melting pot of cultures, lifestyles, climates and landscapes, it's hard to know where to begin when it comes to creating a stellar Malaysian itinerary. From delving into the Batu Caves to hopping on the Langkawi cable car, we'd recommend checking out our top 10 things to do in Malaysia to help inspire your next adventure.
Talk to our friendly team
01 6649999
Call us 9am-7pm Mon-Fri / 9am-5pm Sat-Sun