Breath-taking surroundings at Anantara Peace Haven
Tangalle Resort
Experience the magic of Sri Lanka, plus receive great savings!
Top 10 family hotels in Sri Lanka
There's plenty to get excited about with regards to family holidays in Sri Lanka with some stunning beach resorts and affordable accommodation options making for an exotic experience that everyone can really enjoy. Adults will find fitness, sports and spa facilities in addition to a range of UNESCO sites to keep their minds just as active as their sun-tanned bodies with some superb beaches showcasing secluded sun sets, perfect for romantic strolls. Kids are certainly not left out in Sri Lanka and there's much to be said for exploring all morning, watersports all afternoon and just chilling with mum and dad in the evening over a plate of something delicious before it's time for bed. Sri Lanka is a much more cultural and spiritual alternative to certain other beach resort holidays that could be mentioned and this is your chance to find out more.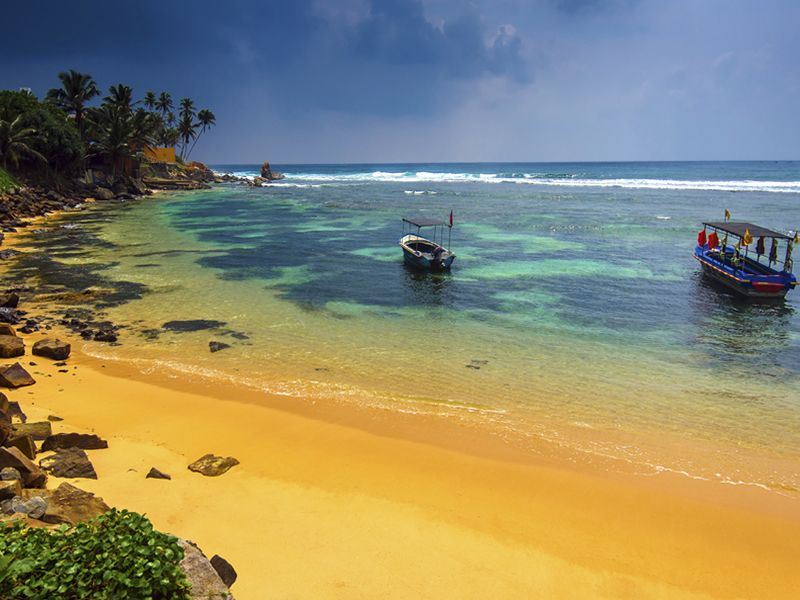 #10
Saman Villas, Bentota
What: The southern Sri Lanka location typifies the romance and tranquillity of Saman Villas and if you're looking to discover some of the island's spiritual heritage then this is an excellent resort to do just that. An infinity-edge pool and easy access to the golden beach always enhance a morning spent relaxing within one of the resort's 26 stylish suites.
Best for kids: The beach and all of those uber cool watersports open up Saman Villas for older children with several nearby heritage sites, including the UNESCO registered Dutch Fort, offering a range of alternatives throughout the day.
Best for parents: Sahana Spa, the snooker room and the library all offer adults a choice of things to do indoors whilst the Terrace Restaurant, Poolside Lounge & Bar, and the Sunset Bar offer a blend of refreshments and international dining options alongside some exquisite views over the surrounding hills and coastline.
More information and to book: Saman Villas, Bentota
#9
Mermaid Hotel and Club, Kalutara
What: The west coast location of Mermaid Hotel and Club really sets the scene for Sri Lanka family holidays with coconut groves and a golden beach offering an exotic backdrop that you'll never get tired of waking up to. With just over 80 guest rooms, the Mermaid is perfect for those who like to keep fit or relax in the day and kick back at night to live music and cocktails.
Best for kids: A games room and kids' play area offers space for children looking to enjoy Sri Lanka at their own pace with an excellent animations team on hand to liven things up a bit around the pool.
Best for parents: There are so many sports to try at the Dolphin that active guests will be spoiled for choice with squash, water polo, yoga and badminton all offering ways to keep fit and healthy on your holidays. This is an active resort and there's an excellent spa to compliment the full range of things to do as well as two swimming pools and an excellent main restaurant split over two levels to sit comfortably alongside optional all-inclusive packages.
More information and to book: Mermaid Hotel and Club, Kalutara
#8
AVANI Kalutara
What: Secluded, tick; swaying palms, tick; Indian Ocean beach, triple tick; the AVANI Kalutara is a fab option for anyone looking to get away from it all where the Kalu Ganga River meets the sea on the southwest coast of Sri Lanka. Just a couple of hours' drive from the international airport with a sensible choice of fitness facilities, including some awesome river and ocean watersports.
Best for kids: The children's swimming pool lets everyone splash about as they choose with windsurfing and kayaking on the river always proving popular with teens.
Best for parents: The spa and adults only swimming pool are always handy for an afternoon of reclining whilst the fitness centre helps you to work up an appetite just in time for an evening of Sri Lankan specialities against a river or ocean backdrop at the Mangrove Restaurant. Moya Restaurant, Miridiya Bar and Karadiya Bar offer some alternative locations to soak up the scenery or indulge your senses, as you wish.
More information and to book: AVANI Kalutara
#7
The Fortress, Galle
What: Located in the sun-drenched southern coast of Sri Lanka only a short distance from historical town Galle, The Fortress is a contemporary, luxurious hotel, with only 53 rooms and a beautiful spa.
Best for kids: Let the kids enjoy a few old fashioned games at The Fortress, including bingo, scrabble and billiards. The pool is also a great place for younger guests to splash around and cool down from the Indian Ocean heat.
Best for parents: If you're looking for mum and dad, they're most likely treating themselves to a sensational ayurvedic therapy in the soothing spa, or maybe enjoying a romantic meal at Duo, a glass cave that oozes glamour and decadence. After the kids have gone to bed, potter down to The Sea Lounge for a refreshing tea-infused cocktail under the starry sky.
More information and to book: The Fortress, Galle
#6
Habarana Village by Cinnamon
What: If you can picture plentiful greenery aligned with trees and overlooking a beautiful lake then Habarana Village in the north centre of Sri Lanka offers the moment that you turn your dreams into reality. Just over 100 rooms and suites allow guests to find their own perfect pocket of paradise with a freshwater infinity pool and sensible range of spa, fitness and family-friendly services adding to the natural attraction and laid back ambience.
Best for kids: A children's playground and babysitting services ensure smaller kids are entertained and looked after throughout the day and into the evening with a range of nearby excursions offering older children the chance to experience adventure and wildlife Sri Lanka style.
Best for parents: This is a secluded and relaxed resort which blends spa treatments, tennis courts and evening entertainment with trips to some of Sri Lanka's most impressive UNESCO World Heritage Sites, including the ancient city of Sigiriya and the cave temples of Dambulla. After a good day spent exploring or busily doing not very much at all you'll find El Hena, Ritigala Pauwwa Bar and Panthaliya Coffee Shop on hand to ease you into the evening with a good choice of cocktails, hot drinks and all day dining options.
More information and to book: Habarana Village by Cinnamon
#5
Tangerine Beach, Kalutara
What: The beachside setting, some 40kms south of Colombo, never fails to signal good times and with just shy of 180 guest rooms and suites available, Tangerine Beach spins a contemporary twist on family holidays in Sri Lanka with bags of activities for everyone to enjoy.
Best for kids: Children are really well-catered for with their very own play area, swimming pool and animation team on hand to keep them safe and entertained from dawn till dusk. A babysitting service lets parents have an evening off for good behaviour and children's menus and high chairs in the restaurants provide all the comforts of home.
Best for parents: All-inclusive options are always worth checking out whilst a full range of sports, fitness and well-being amenities open up a world of indoor and outdoor fun and games, including: volleyball, tennis, massage and a freshwater swimming pool with handy pool bar. Paruwa Restaurant, Seashells Café and Pebbles Lounge Bar are the places to be for refreshments and evening entrainment with a delightful cascading water garden adding to the exotic ambience of life on Kalutara Beach.
More information and to book: Tangerine Beach, Kalutara
#4
Club Hotel Dolphin, Waikkal
What: If you're looking for all-inclusive on Sri Lanka's west coast then the 151 guest rooms at Club Hotel Dolphin provide the ideal place to put down your bags and slip on your sun hat. An abundance of on-site activities and free Wi-Fi will make the folks back home as green as the resort's swaying palm fronds with excursions into Colombo and Negombo offering fab alternatives to another awesome day at the beach.
Best for kids: Having a dedicated kids' pool next to one of the adult versions is always a plus as is the free Dolphin Kids' Club which never fails to keep little Flippers happy and active as parents kick back and relax.
Best for parents: A couple of well-placed swimming pools offer excuses to skip the beach for once and if you're into kayaking, table tennis, tennis, badminton, mini golf and archery then the Club Hotel Dolphin has got the lot alongside evening entertainment and the chance to go horse riding. There are so many excuses to work up an appetite that the local chef may well have his work cut out although Sands and Waves restaurants offer some superb seafood and meat grills and local specialities so guests' complete and utter satisfaction is never in question.
More information and to book: Club Hotel Dolphin, Waikkal
#3
AVANI Bentota
What: Created in homage to an 18th century Dutch village and boasting an inspired mix of wildlife, romance and luxurious spa services, AVANI Bentota provides the antidote to stressful modern lives with golden sands and lapping ocean waves practically on your sun kissed doorstep.
Best for kids: A couple of outdoor swimming pools and a children's paddling pool provides freshwater fun for everyone with trips to the nearby turtle hatchery and days spent at the beach never failing to get the thumbs up from little kids and big kids alike.
Best for parents: The Garden Spa is a real joy for all the senses with four therapy rooms and a couple's suite never failing to relax and excite in equal measures. Once you've worked on your muscles then a spot of beach volleyball or locally organised watersports can help you work on your tan and if you're looking for sustenance, the AVANI Bentota has two restaurants for all day dining as well as the chance to dine in the comfort of your own room or kick back at the cigar and wine lounge.
More information and to book: AVANI Bentota
#2
Anantaya Resort & Spa, Chilaw
What: The great location, slap bang in the middle of Sri Lanka's west coast, makes Anantaya Resort ideal for getting out and about with nearby cultural attractions and adjacent mangrove lagoons adding to the totally exotic beachside setting. Plenty of on-site fitness and well-being facilities make the Anantaya an excellent all-rounder especially for adults looking to escape.
Best for kids: There's a great swimming pool and plenty of fun to be had on the beach although a trip to the Hindu temple at Chilaw always gets the thumbs up from mini-tomb raiders.
Best for parents: This is an excellent resort to keep fit and healthy or just kick back and relax with beach volleyball, cricket matches and cycling tracks mixing it up with spa, gym and shopping options. The Main Restaurant, Lounge Bar and Pool Bar & Terrace offer a full flavour of international and Asian dishes and cocktails with tropical temptations to match the sea views at sun set.
More information and to book: Anantaya Resort & Spa, Chilaw
#1
Centara Ceysands Resort & Spa
What: Situated on Sri Lanka's super southwest coast the Centara Ceysands combines modern style with golden sands and peaceful river banks and if you're longing to have your pick of 165 stylish guest rooms then river and ocean views are yours for the taking. A whole host of watersports, fitness and spa facilities make this an ideal resort for families looking to live in style on the tear drop isle.
Best for kids: A designated children's swimming pool, choice of beach watersports and their very own Camp Safari kids' club will put your Indian Ocean adventurers fully in the picture with an E Zone for teens looking to make mates back home green with envy.
Best for parents: The beach is absolutely gorgeous and this lesser visited location of Sri Lanka is still very much off the typical tourist radar. Half board and all-inclusive options give you a chance to manage budgets and expectations with the Café Bem, 360 Seafood Restaurant and Ceylon Club promising regional and international cuisine alongside drinks and stunning sea views.
More information and to book: Centara Ceysands Resort & Spa
Find your perfect holiday
Talk to our friendly team
01 6649980
Call us 9am-7pm Mon-Fri / 9am-5pm Sat-Sun